 Quitting smoking
Vaping makes it easier
VAEP Shareables are images utilizing graphics, colour and text to quickly teach people about vaping. Each Shareable provides the reference on the bottom.
Using vaping to quit smoking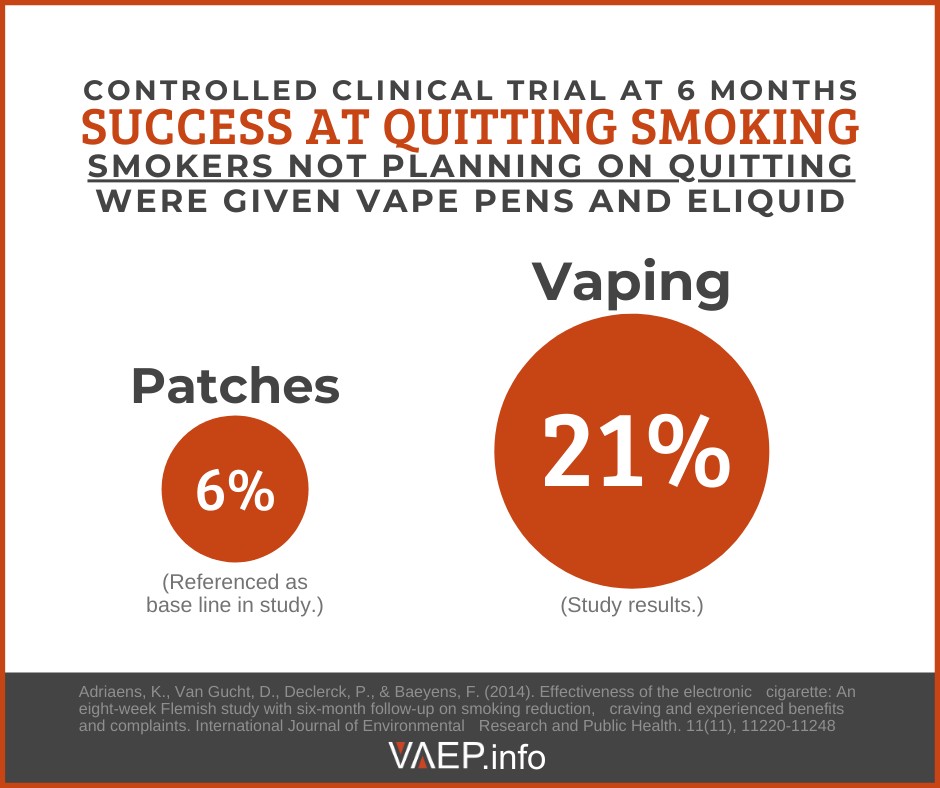 Vaping triples the quit rate of the patch
Controlled clinical trials are the gold standard of science. In 2014, a group of smokers who didn't want to quit smoking were given eliquid and simple vapes (the vapes today are even more effective). 21% of the smokers quit smoking; compare that to 6% success with patches.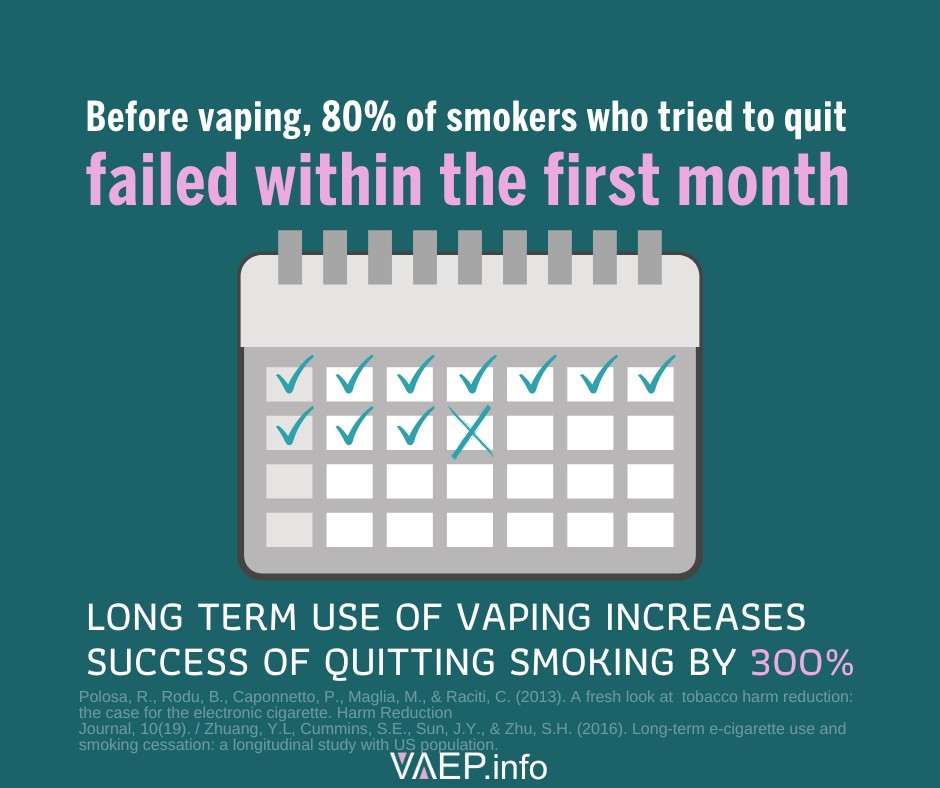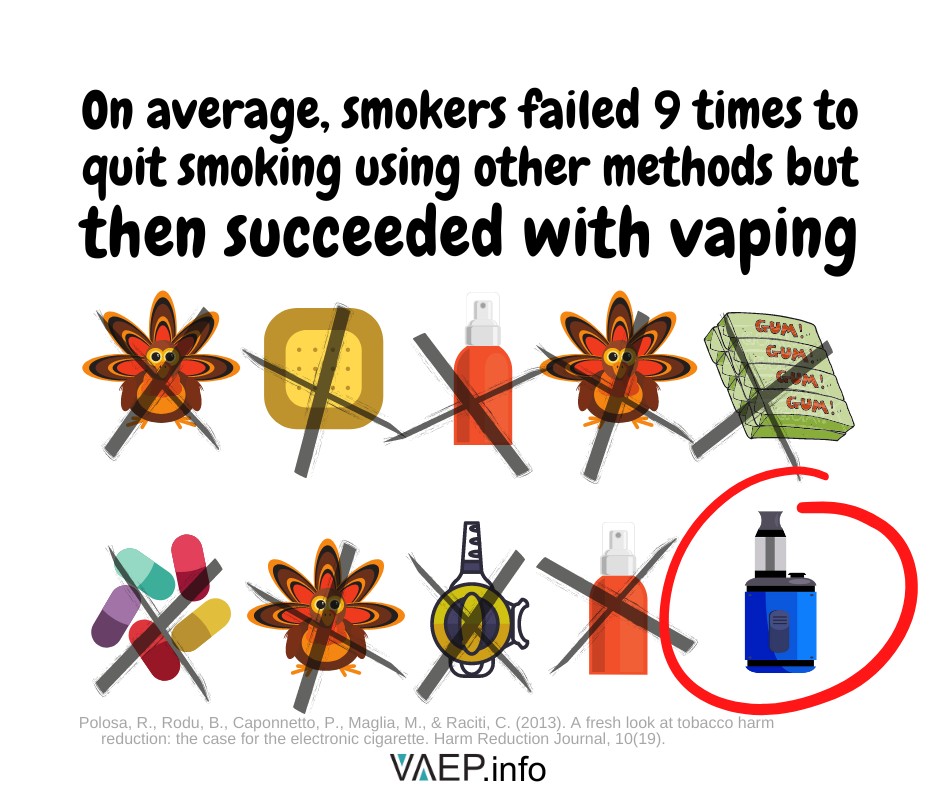 Smokers finally quit with vaping

Vaping satisfies the nicotine addiction & smoking behaviour PLUS vaping offers thousands of flavours to help the smoker replace the taste of smoke with something better. That is why it is more effective than sticking a patch to your arm or chewing gum.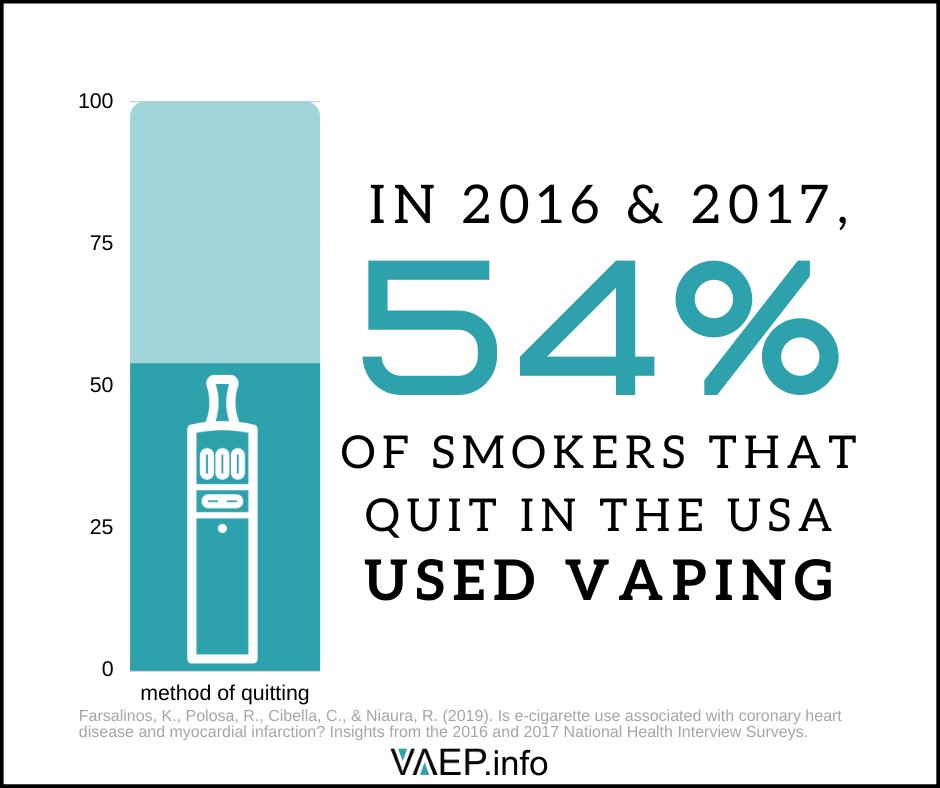 Half of successful quit attempts was with vaping

The 5.7 million Canadian and 34 million American smokers demand for a safer alternative has driven the vaping industry's growth. If vaping didn't help smokers quit smoking then there would be no vaping industry.
Using vaping to quit smoking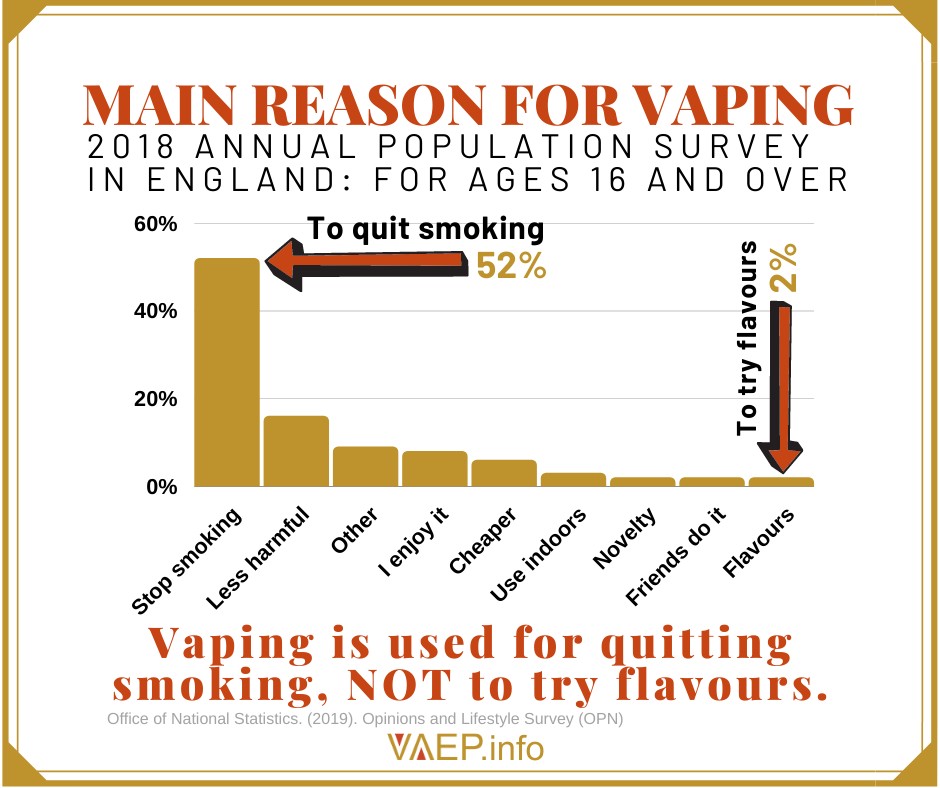 People vape to quit smoking
This bar graph illustrates that the MAIN reason for vaping is smokers seeking to quit. Flavours are not the main reason but vaping wouldn't work if it didn't offer smokers a more pleasurable and novel experience than smoking because cigarette smoke is more addictive than nicotine on its own.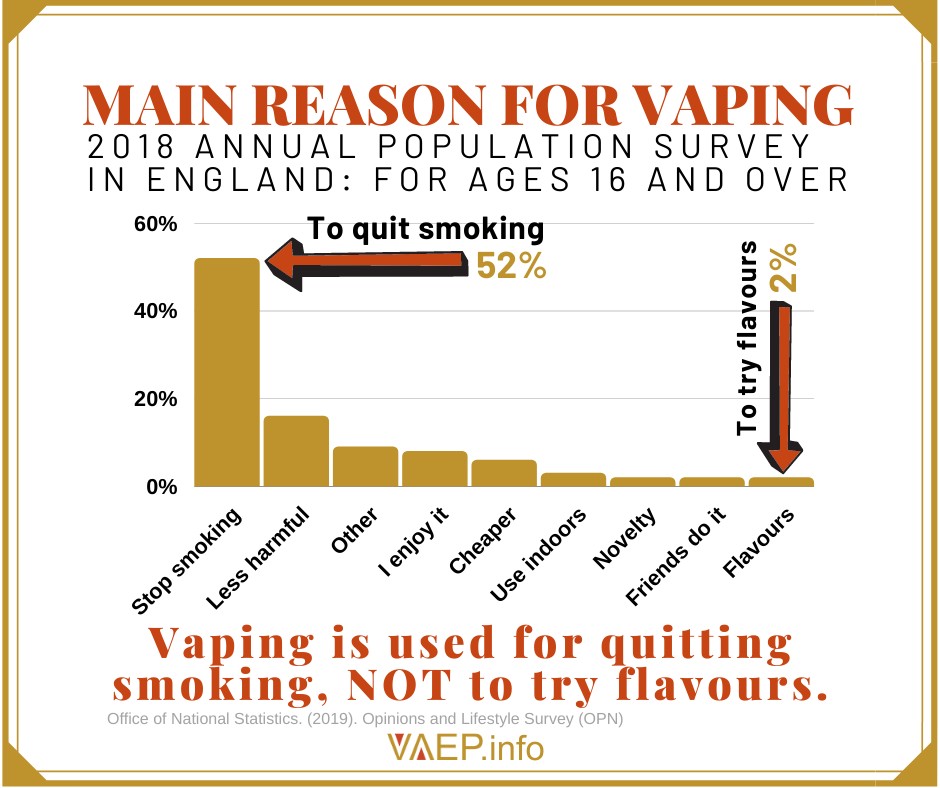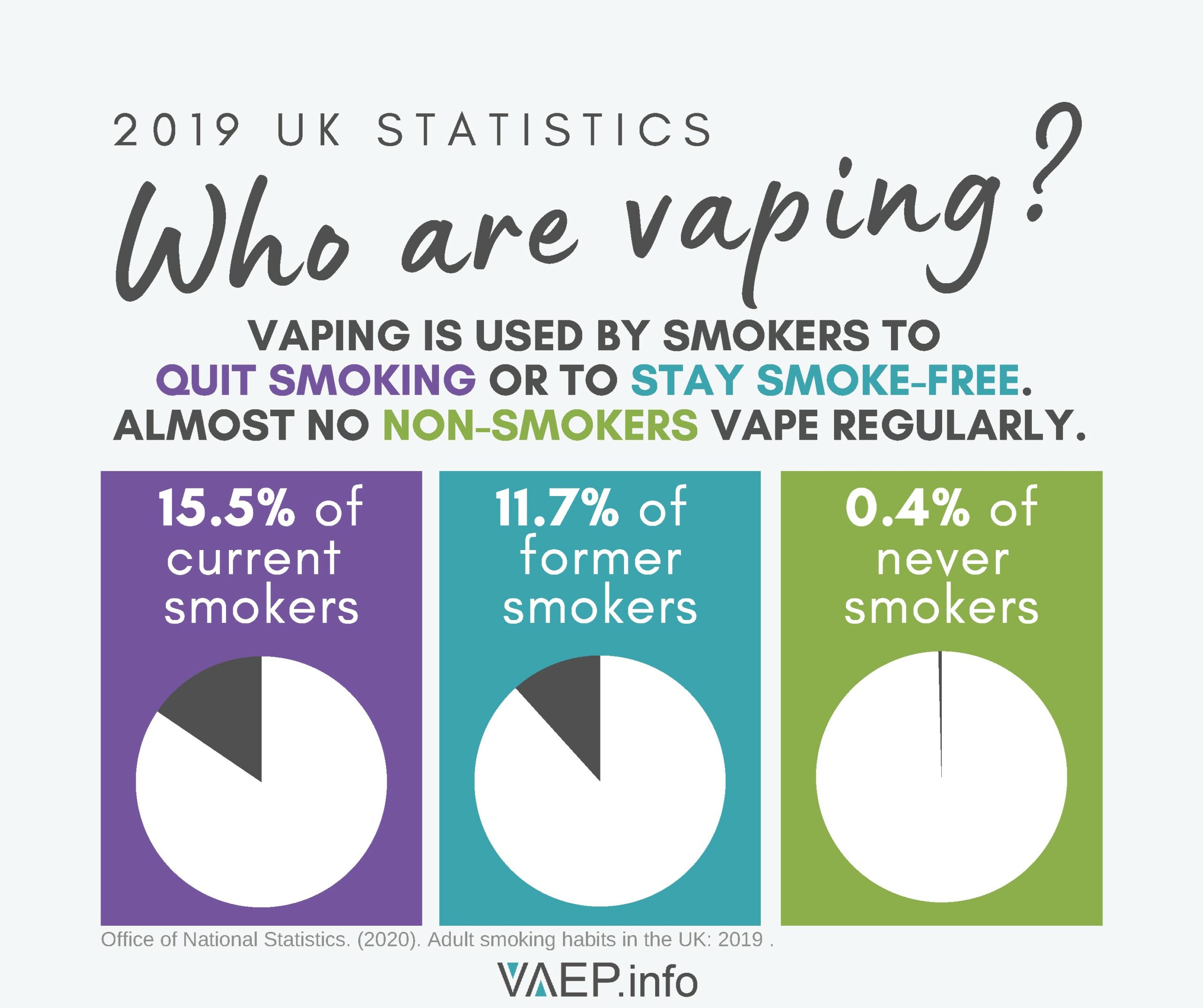 Types of people that vape
Surveys and reports show that less than half a percent of people that never smoked are vaping. However, 15% of smokers and 13% of ex-smokers vape. This shows that SMOKERS are vaping to either quit smoking or stay quit. They deserve to continue to have access to harm reduction.
Medical smoking cessation
Dying to quit
Smoking is so bad for health and so hard to quit that doctors prescribe psychoactive medications to help their patients quit. Side effects include killing yourself.
What does your doctor recommend?
Health professionals that understand tobacco harm reduction understand the difference of nicotine dependence and addiction. Dependence is when the body has a tolerance to a substance and experiences withdrawal without it. Addiction is the same except there are negative consequences for the dependence such as smoking-related diseases.
For more information on youth and vaping, please visit our VAEP Shareables gallery and choose the "Youth" category.