What went wrong in the USA
Governments, health authorities, medical professionals, anti-smoking groups and health-related nonprofits utilized mainstream media to repeatedly claim that vaping was injuring people without specifying that the injuries were caused from illegal THC cartridges.
Over and over again, they included vaping nicotine in their conversations, statements and announcements. A false narrative that blamed vaping nicotine for the lung injuries spread throughout the public and the health community. 
CDC contradicts their evidence
As a national health authority, the Center of Disease Control and Prevention (CDC) has a responsibility to report on the facts. Their publications influence medical policies in the USA and all over the world. During the lung injury outbreak, despite the growing evidence that vaping street-level drugs were the cause, the CDC continued to allude that vaping nicotine was to blame.
Fake news
The United Kingdom (UK) promotes vaping for smokers. They are different than most of the world because they independently reviewed the science on vaping before the global narrative that Canada has adopted was dictated. The deceptions about EVALI were so pervasive that even their citizens became misinformed!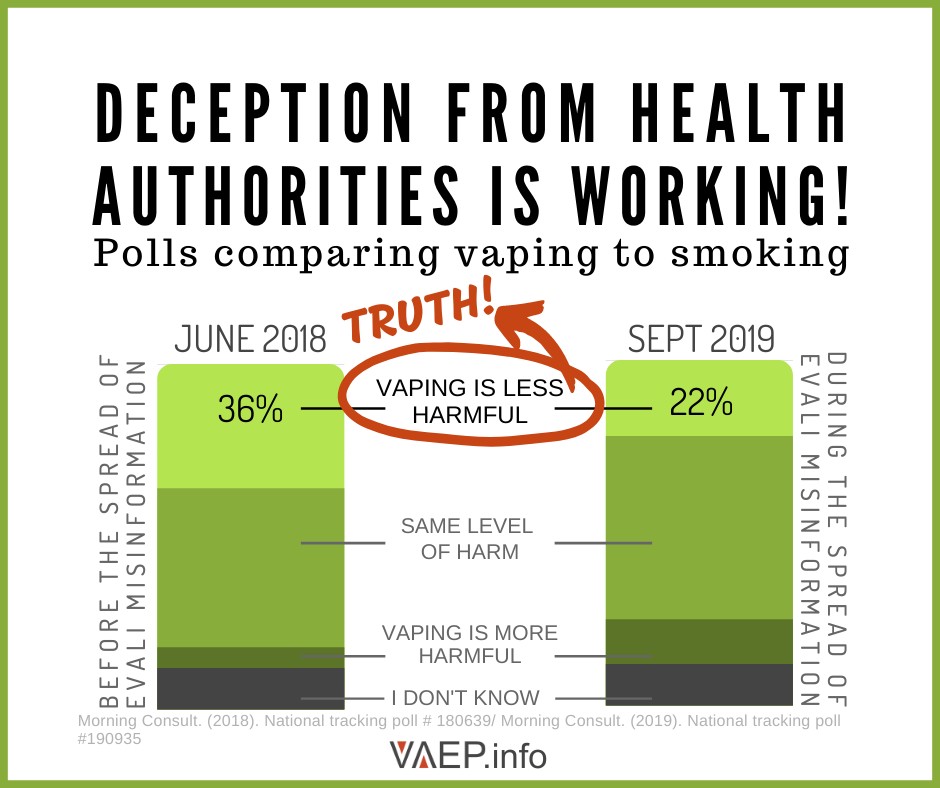 The lies are working
The misinformation campaign through authority and media has convinced the public that vaping nicotine is the source of EVALI. Within 15 months, an increase of 13% of the people wrongly believe that vaping is MORE harmful than smoking, The public now demands eliquid flavour bans and other restrictions on tobacco harm reduction (vaping).